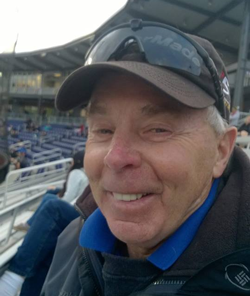 David L. Ryles
November 30, 1950 – February 08, 2019
Photos courtesy Patti Ryles
"Remember when we…" is a phrase I have heard Dave Ryles speak over and over again. He has said those words to me and to many others over the years, but it was not like when so many others say those same words.
When you hear some people say "Remember when…," you just know that they are trying to relive their glory days. And when you hear others, you know that they are living in the past. But when Dave said those words, he was cementing a relationship. He was reconnecting with another person who was important to him.
I worked with Dave for twenty years give or take. We taught at the same high school. We also coached football together, and enjoyed many nights in booths and on roofs of stadiums around the area. During all those years, we talked about football, of course, and baseball and his family (especially, his grandson). We talked about scouting and teaching and coaching. We talked about hunting and golfing. We talked about his dogs. We just talked about life. And the more time we spent together, the more I heard him say to myself and to others, "Remember when we…" When we did this or that together. When we saw this event or that event. When we did something together.
Dave never really talked about his own accomplishments unless he was with somebody who brought them up. You had to pry and poke and prod him to tell stories about himself. At least if it was a story that you were not involved with. He always preferred to listen to your stories. Or the stories that you had in common with him. Which is why as I remember Dave, I remember those stories we shared. Of football practices and games. Of bus rides and cramped spaces and inclement weather. Of golfing and eating. Of just talking about life. And on those rare occasions, of hearing him talk about himself.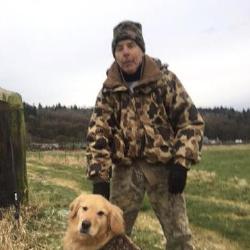 I never really realized that Dave was connecting or reconnecting with people when he asked, "Do you remember when…?" until I saw him around people he knew from college and other times and places. They had some of the greatest stories to share. Of baseball games and nicknames and all sorts of other things. The story I enjoyed most of all was of how Dave got a nickname of The Mole. Apparently, he was stealing third and slid in head first. When the dust had settled, he was covered in dirt and dust. One of his teammates or coaches said he looked just like a mole and the name stuck.
The memories also stuck.
I have always enjoyed hearing Dave talk to his friends from other times and places. They shared stories about each other and what they did together. About games played and busses missed. About pranks and nicknames. About this and that. But the stories were rarely just reminiscing. The stories were keeping relationships alive. The family and friends were telling each other how important they were to each other. They were telling each other they loved each other.
Everybody loves Dave. Whether they are family, friends from times past or present, teammates, colleagues, or former students. And at least part of the reason they love him is because he keeps the relationships alive. With time spent together. And with the words, "Remember when we…"
© 2019 Michael T. Miyoshi
Comment [1]
I was going to write that snow days are not what they used to be. Then, I looked back and saw that I already wrote that. A couple years ago. Almost to the day. So while I will not quite recycle the post, I will recycle the idea.
Snow days are not quite what they used to be. I remember being a kid and loving to go out into the snow to build forts and have snowball fights. Oh, and wrestle in the snow. That was the fun part, wrestling around and shoving snow in each others' faces and getting upset when somebody went too far. That did not happen all that often. Really. My siblings and I were pretty normal and so of course, we went too far at times, but since I was always bigger than everybody else (until we got to be nearly adults), I had to make sure I did not use my size to my advantage. At least not too much. So I got plenty of snow in my face and down my back and wherever else it was not supposed to be. And where it made you the coldest. But we always had a great time in the snow. We had those same great times when my own kids were younger (but I did not rub their faces in the snow).
The thing is, we did not miss many days of school just because we had snow on the ground when I was a kid. In reality, it seemed we only missed school when it snowed and it was too cold to go outside and enjoy the white stuff. It was not like we were in North Dakota or somewhere where they got real snow. But Colorado and the Spokane area were plenty used to snow. So we just bundled up and trundled to school, or at least to the bus stop, pretty much every day. And if we ever missed school because of the snow, we just watched the blizzard from inside. Until the conditions were right for us to go out and enjoy the snow.
The other thing we did whenever it snowed (whether we missed school or not) was shovel snow off the driveway. We did not have a snow blower. We just had shovels. I remember one night shoveling until what seemed like midnight. Actually, we were not shoveling at the end. We were pounding ice. One of my brothers and I were breaking up the ice that had formed because the car had been driven over the snow enough to pack it down. Underneath that packed down stuff was ice. So we were breaking all that stuff up. It took forever.
I do not think that one long, arduous, back-breaking night of shoveling snow and breaking ice off the driveway was some sort of punishment. But it was surely a lesson. It taught me to shovel the driveway right away. Make sure that the snow gets off the driveway before the car drives over it. Which is what I have pretty much done since that day. It snows, I shovel. It snows, I shovel. I learned to like the routine. It snows, I shovel.
Nowadays, I still like to shovel show. Really. I am not sure if it is just that old routine or a compulsion or what. I just know that I like to have the snow off all our vehicles and off the driveway and sidewalk. I suppose it probably is a bit compulsive. But I still do it. And I still enjoy it. Both the work and the result.
The snow did get removed from the places it is not supposed to be on this particular edition of Snow Day, but not much else happened. However, the night before, I got a bit of snow on my body. But I must not have taught my children very well since my son did not put it down my shirt. Just on it. And it happened in the house. (Thankfully, no indoor snowball fight broke out.)
Like I said, not much happened on this latest edition of Snow Day. But besides the shoveling, things are much different than they used to be. Even different than they were just a couple years ago.
[Note: We had a second snow day on which I made a YouTube video of what I did the first snow day.]
© 2019 Michael T. Miyoshi
Drawing · 2 February 2019
Drawing is not something that comes natural to me, but I have been having a lot of fun making pictures for my blog posts.
I am not an artist, but I do like to draw and do other forms of art. I have drawn from time to time just to see if I can get better. And believe it or not, I have. Gotten better that is. But I am still not an artist. At least not yet.
I am convinced that drawing (and art in general) is a skill. Drawing little things here and there are part of that skill, but there is much more to drawing than just doodling. I must admit though, doodling is good for the artist. And it is good for me. It helps me concentrate. Even when I am listening and taking notes. Really.
Artists will always tell you that whatever artistic medium you choose, you can get better at it. You can study. You can learn. And you can develop the skills necessary in whatever medium you choose.
For instance, photographers will always tell you that you just need to take pictures if you want to become a better photographer. It does not matter whether you have a good camera, a bad camera, or even a phone camera (which are much better than the first digital and many other cameras). Just shoot. And then, shoot some more. Your eye will get better. Your compositions and colors will pop. You will become a better photographer by taking pictures. Period. (But studying is good too.)
The same is true of drawing. You will get better at drawing by drawing. It seems so simple. And it is. That is because drawing and composition are skills. Skills require practice for the practitioner to get better. And so to become better at drawing, I have started drawing more.
Of course, I have gotten a couple pieces of software to help me draw. Or at least to help me practice drawing.
(While this is not a piece promoting software, I must admit that I like the software I use. Affinity Design by Serif is a great way to draw. I can use primitives to make shapes like rectangles and circles, but I can also just draw. I can place text or just scribble. And I can change the texture, size, and color of lines. I have done all of those things on the last few illustrations I made for my blog posts. A jar of blog jam. A 17 with splotches of color behind it. A footprint with words in front. They are all just simple drawings I made with the iPad software. And I just drew them on the screen. What fun!)
I agree with artists who say that drawing and painting and sculpting and photographing can all be learned. That you can get better at those things because there are skills you can learn and develop (no pun intended). In fact, I talk about those things with my art friends all the time. I can relate because writing is a skill that can be learned too. It is all about how much time you are willing to put toward developing your chosen skills.
I am sure I will not be able to come up with illustrations for all of my blog posts, but I will keep at it. After all, it may not come naturally to me, but I sure to have fun drawing.
© 2019 Michael T. Miyoshi