Snow Day · 18 February 2017
Snow days are not what they used to be.
It used to be that snow days meant going out to shovel snow and then getting outside with the kids to make snow forts or snow sculptures. Now, it just means shoveling snow and hoping that the one kid left in the house might deign to come outside and play in the snow with me.
In some ways, it is a disappointment when he says no. And in some ways it is a relief.
On our last snow day, Thing 3 said that it was too cold outside. He was also feeling a bit under the weather. Still. So I did not push the issue. Part of it was that the snow was a bit mushy so while it would be pretty good packing snow, it would be difficult to build anything with much height.
I did not realize the other part of my not pressing my son to go outside with me until later. I did not realize that I was a bit relieved that I did not need to go outside and get cold and wet. Sure, part of it was knowing that the snow was not really the best for forts or sculptures. But part of it was also that being cold and wet is not my idea of fun anymore. I like to be warm and dry.
I am not sure when this idea of needing to be warm all the time came to me. Perhaps it is just part of getting older and being colder all the time in the winter. Or perhaps it is just that I am a bit off my game right now. Just finally getting over a lingering cold. Either way, it is a disturbing thought thinking that I would rather stay inside and look at the snow than be out in it fortifying my position or creating art.

Photo by Lisa C. Miyoshi
I am not sure when the next snow day will come, but I am not going to be content sitting inside and watching the snow fall. I intend to go out there and create something. Igloo, fort, or art. It does not really matter. I just need to enjoy the snow.
Then again, who knows? I might be ready to sit by the fire and stay warm and cozy. I might be content knowing that snow days are not what they used to be.
© 2017 Michael T. Miyoshi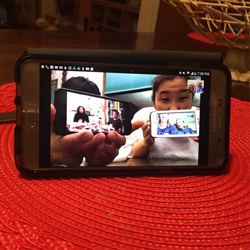 Photo courtesy of Russell Miyoshi
I am not exactly sure if it is a tradition or rite, but we remembered my dad on the anniversary of his death.
It might sound sort of morbid from a certain point of view, but remembering a loved one on any day is actually a good thing. Sure, it might bring a tear or two or even a deluge, but remembering somebody fondly is good for the soul. As is the crying. And remembering to remember somebody on any specific day is, at the very least, therapeutic. Whether it is a tradition or rite or just because.
My mom wanted all of our family to remember my dad on the first anniversary of his death. So while we could not gather in person, we had an audio and then a video gathering. It was interesting seeing my siblings on several phones on the dining room table where we grew up. It was both new and nostalgic. It was difficult to hear everything going on, but it was nice to be there. Even virtually.
My wife told one of her favorite jokes that my dad used to tell. Something about cowboys and pickup trucks. It is family friendly and appropriate (mostly), but I am not allowed to tell jokes. Oh, it is not a prohibition by anybody else, I just know that I can set up the joke or remember the punch line, but never the twain shall meet. So it is an unwritten rule that I do not tell jokes. Online or in person.
At any rate…
Well even after the joke, it seems we did not do that much direct remembering, but enough to make my mom cry. And enough for the rest of us to at least tear up. I know that we all remember Dad more than fondly. We might even sit like him and talk like he is still around. Certainly, we all miss him more than we could have ever imagined. But we also know we will see him again someday.
(If you know me at all, you know that this would be a great time to add a little something about God and the love and leadership of Jesus, but I will refrain. And yes, I think parentheses make the words invisible. But that is a different story.)
Like I said in the beginning. I am not exactly sure whether it is a tradition or a rite, but I am glad that we took the time to remember my dad on the anniversary of his death. It was good to be together. Even digitally. And it was good to remember Dad.
© 2017 Michael T. Miyoshi
There are times when I wonder which is more important, writing or production. I know it is a silly question, but there are times when I wish I was writing instead of getting my blog post ready or creating some simple art or typesetting a book getting it ready for production. (I know, there are no typesetters anymore.) All those things are parts of the writing process, but I cannot help but think that I ought to be writing when I am doing the other tasks that still pertain to writing but are not writing. It is quite the conundrum.
I suppose it would be nice to be a real writer. One of those published people whose sole means of support is from writing. Then, I could spend the time I need to spend on writing and the things that go with it. I could blog and do social media and create art and work on all the writing projects that I have bottled up in my brain. Or maybe I could have other people do some of the things I do not have time to do. But alas, being that type of writer is not on the horizon as far as I can tell. After all, being mediocre does not really sell.
So I need to make choices on how I spend my writing time. Which means that sometimes I am doing the support tasks for my writing that need to be done. But most of the time, I am writing when I am supposed to be writing. When I choose to be writing.
Well, that is about it for this topic. I have no idea if it is supposed to go anywhere else. I just know that writing and the other tasks that support writing are both important. They deserve time and energy. I also know that when I need to be writing, I am writing. Which for a writer is the most important thing to be doing. Period.
© 2017 Michael T. Miyoshi