I almost hit a bald eagle on the way to work the other day. I think we both scared each other.
I have never had a need for a dash cam until the other day. I was almost to work, when I had to slam on the brakes. Screech! A bald eagle had just swooped down from above and grabbed something in front of me. It was pulling out of its attack run when I slammed on the brakes. It flew right in front of my windshield. I must have scared it as much as it scared me because it dropped whatever it had caught. I only saw the corpse hit the pavement in the other lane.
I have seen lots of wildlife on my journey to work. Usually though it is just deer. They take jaunts through the neighborhood looking for rose hips. Or maybe they are just out for their morning jogs looking for the next likely place to bed down for the night. Or maybe they are out playing with the pets and squirrels.
Of course, there are pets galore running around with their owners in tow. Or just running rampant in the neighborhood playing dodge the cars or just chasing each other. The cats might be chasing the squirrels or the squirrels might be chasing the cats or each other. Or maybe they all just want to play with the crows in the middle of the street. Even if said crows are feeding on their cousins.
At any rate.
They all seem to want to play in the street. Which is not something I would need that dash camera for. But the bald eagle encounter was amazing. I do wish I had had a dash cam to capture that encounter with wildlife.
Of course, the footage would be strange. The camera would see the huge bird come swooping down into the frame. Then, the shot would suddenly point down toward the pavement in front of the car. It would have caught the sound of what I assume was the lower part of the car hitting the pavement as the car nosed downward. Then, the scene would have stabilized in time to catch the talons of the bird with whatever thing it had grabbed in its talons. It might have even seen the eagle drop its catch, but I do not think so.
From the eagle's perspective, it was more like almost getting in an accident. First you say it, then you do it. But instead of pooping its pants, it just dropped its payload.
(I did not say it or do it.)
So maybe a dash cam would not have been the best item to have in this situation. But it would still have been fun to have one to see if it would have caught the creature in the wild.
The strange thing is that I did not see whether the eagle had caught something running across the street or if it had just seen some bit of carrion lying there and decided to grab a small snack that somebody else had left (although the second thought does not make much sense). It is probably a good thing that I did not see some squirrel or somebody's cute pet getting lifted off the ground by a huge bird of prey only to be dropped ignominiously on the other side of the street crushed by the strong talons of the eagle and then dashed against the pavement.
Of course, I only really saw that it was a bald eagle because of its head. I did not look into its eyes or judge its wingspan. I only saw that that the eagle had swooped down in front of me and then swooped away again in front of my car. I had hit the brakes. Then, I watched the bird as much as I could, but it all happened so quickly.
Swoop. Screech! Swoop. Splat. Breathe.
It was an amazing thing. Something that a dash cam would probably not have caught much of had it been there. But it still made me think a dash cam would be cool for moments like these. Moments where you might not believe the incredible story had it not happened to you. Moments when you almost hit a bald eagle while driving to work.
© 2023 Michael T. Miyoshi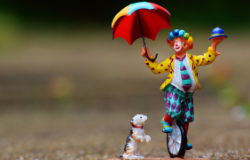 …abrupt endings. (Look at that. An ending and a serialization with just two words. And a lead in to this week's post. Kinda sorta.)
There are times when my writing makes me laugh. Not very often, but it does happen.
I cannot tell a joke to save my life. And if you have read about that before, you know that I can either tell the setup to the joke or the punch line. But never the twain shall meet. Rather, rarely, the twain shall meet. Still, I like to give it a shot every now and then. If only to hear the people around me groan.
The same is true for stories. I cannot tell a good story to save my life. I do not know what it is, but even if I can write a story (which may or may not be true), I cannot tell a story. At least not orally. Not on the spot. Not with a single onlooker or a crowd.
But even though I cannot tell a good joke or story, I can make myself laugh. Usually, with my writing. And usually, in the privacy of my own writing area sitting in front of my computer. Oh, I do not usually laugh out loud. No huge guffaws or anything like that. I just chuckle to myself when it happens.
Now, I do not know that my chuckling to myself means that anybody else will chuckle when they read what I write, but that is okay. After all, I know that my readers (both real and imaginary) will give me something to laugh about if I have said anything worthwhile. My friends will chide me about this or that. Sometimes I need to remember what I even wrote to understand their jokes. After all, I often post my blog and forget it. Like that infomercial. "Post it and forget it." (I do not even know what product that is.)
At any rate.
I do not know what it is that makes me laugh at my own posts. At least not all the time. Sometimes I write something specific for somebody. Like when I end sentences with prepositions, I usually think of what my friend Marc would say. (He knows who I am writing those sentences for. And how he ends those sentences in his mind.) Or like when I wrote about abrupt endings, I was thinking about what my friend Mike would say. (He decided to speak to me without ending his sentences, which I did not get. Not because he usually talks like that, but because subtlety is lost on me. Which is a completely different story.)
So yes, I often think of M&M when I write something silly. Or even something that I might think is poignant. Others have given and continue to give me feedback on my writing, but M&M are usually the ones to give me immediate personal feedback. Usually in a form that is too subtle for me to completely understand before they remind me of what I wrote. (Nothing like having to explain a joke to take the wind out of a person's sails. Which is never my intent. I am just slow.)
At any rate.
I thought I was writing about making myself laugh. But I am not sure I did that. Except that when I read my own posts, I often think of what my readers (both real and imaginary) might be thinking. And when I think that M&M and others might laugh, it makes me laugh too. And sometimes I just make myself laugh.
(Sorry about the strange beginning. You might need to look back a week to get it.)
© 2023 Michael T. Miyoshi
Some people are great writers with beginnings, middles, and endings to all their writing. Some of us are not such great writers. Some of us have suspect openings, middling middles, and abrupt endings.
There are times when I have abrupt endings to my blog posts. I do not mean to have them. I just do. Things are going along just great, when "BAM!" the end just comes. "Screech!" the brakes are applied and you can smell the burnt rubber on the road. Ugh. I hate that. Both the smell and the abrupt ending.
(By the way, can you feel the irony and deliberate foreshadowing?)
Usually, those abrupt endings are because I am not going to meet my self-imposed deadline. I am not going to have my post ready for my #ThursdayThoughts preview audience (both real and imaginary) on Twitter and Facebook. So I write and write and write. Then, I do a quick read through and ready or not, I post the thing.
(If you have been reading my blog for very long, you realize that there have been lots of "or not" postings. Thanks for sticking in there hoping and praying that I get better. Unfortunately, this is probably about the best quality as it is going to get. Anyway…)
Sometimes those abrupt endings are a mistake. I write something that I am supposed to come back to later. I get to a point in my day where I just need to stop. So I do. Fully meaning to come back to it later to polish it up and get it ready for posting. Then, all of a sudden, that deadline looms. The sweat starts pouring off my forehead and I succumb to the pressure. I just put out that stinky blog post with the abrupt ending. Ugh. What a nightmare.
Posting something that is unreadable or unintelligible is one thing. Posting something that is unprepared is unprofessional. Which is about right. After all, I am still doing this gig for the fun of it. I am not a syndicated columnist or wildly successful writer. People do not flock to my websites in droves. At least not yet. And they probably will not as long as I keep posting unfinished posts or posts with abrupt endings.
Ah well such is life.
I suppose there is much more to write on the subject, but that is about it for today. Like I said in the beginning. Some of us have suspect openings, middling middles, and.
© 2023 Michael T. Miyoshi