We took a journey to the edge of the earth. Or at least what they call the northwestern most part of the contiguous United States. All I know is that it seemed like the edge of the earth.
Believe it or not, I am not a flat earther. I have been to the ocean where I have seen that the earth must curve because we cannot see past a few miles. Think about it. If the earth was flat, you ought to be able to see Japan or China on a clear day. At any rate, I know the earth is not flat because even though I only saw fog out there on the ocean, I did not hear the roar of water crashing over the edge of the earth. Still, it sure seemed like we walked to the edge of the earth when we got to the end of the Cape Flattery Trail.
You might think that getting to the edge of the earth ought to be a simple thing, but getting to Cape Flattery is quite the journey. So if you are a destination person instead of a journey (not the band) person, you might think of going to a different edge of the earth. After all, you go from deserted place to deserted place through deserted place. Or so it seems. It was over 45 miles from one state highway to the edge of the earth. Then, instead of being able to go on some loop to where the vampires live (in Forks), we had to go back on those same 45 miles through the same deserted places to get to the same deserted place before we could visit the home of the Washington vampires and werewolves.
It was still worth it. I enjoyed the view (even though there was fog out on the ocean and in the Strait of Juan de Fuca. We were up high looking down upon the ocean and little islands and outcroppings of land. It was amazing. Awe-inspiring. Yes. I would have liked to have seen China or at least the curvature of the earth rising up (so that I could not see any part of Asia), but I enjoyed both the scenery and the company. After all, our whole family was there. We had a great trip to the edge of the earth.
The hike (the journey at the destination) was nice too although it was all downhill on the way there and uphill the whole way back. You would think that somebody could make a path that was more relaxing on the return trip. A tough hike to see the vista makes more sense than a tough hike to get back to your car to drive that return trip through a deserted land filled with nothing but trees, trees, and more trees. Thankfully, it was not that tough a hike. And I was happy to be away from the edge of the cliffs as well as the edge of the earth.
If you love the journey and the company you keep while taking the journey, you will love taking your family to the Cape Flattery Trail. I did. We took a wonderful hike to see the fog at the edge of the earth. And it was worth every minute and every step (and every mile in the car too).
© 2018 Michael T. Miyoshi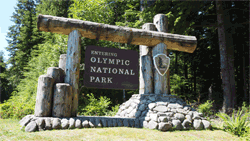 (For some reason, I had the notion to write my bear story from the bear's perspective.)
I was walking along minding my own business when I met a man. I was just doing my own thing like usual. I was taking a mid-afternoon walk to my favorite napping spot (in Olympic National Park near Sol Duc Hot Springs) when I came to the people path. Now, mama did not raise no fool. She always said, "Make sure to look both ways when crossing people paths. You never know if there might be a scary person out there. And you know you are always supposed to stay away from people." Well, I still listen to my mama's advice. So I looked both ways at the people path.
Imagine my surprise when I looked to my right and saw a people. Sure, I have seen people far away. They even have cameras with long lenses pointed at me from time to time. But I have never seen one so close. I don't even know why I didn't smell him right away. But there he was. Just standing there with his mouth open not moving a muscle. With a camera down around his belly button, but in his hands.
Well, I decided that mama was right, even if the guy looked harmless. Or maybe even less than harmless. I decided I would skedaddle. I kept him in sight as I stood and turned around. Then, I just walked away. Okay. I walked a bit faster than normal. I mean, he was only fifty or sixty feet away from me. (When I tell mama, he might be a little closer and a little bigger and scarier.) I was almost to the trees when he pulled up his camera. I think he might have gotten a shot off, but I don't know. All I know is that I was not going to go parallel to the people path so I went back toward the river. Straight away from the man and the people path.
I know I need to cross the people path from time to time, but I will surely look around even before I get there. Seeing that man on the people path so close to me was not a fun experience. After all, I am not much of a picture person, posing or anything like that. I just like to mind my own business and eat and sleep and walk around doing bear stuff. No need for people watching. People are scary. And I do not need to see any more people when I am on my afternoon walk minding my own business.
© 2018 Michael T. Miyoshi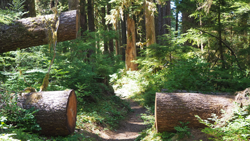 I saw a bear in Olympic National Park! I did! I did taw a bear in Olympic National Park!
I was walking along by myself back to Sol Duc Hot Springs after a hike to Sol Duc Falls when I saw a black bear. He was going to cross my path about 50 to 60 feet in front of me. When I actually saw him, I stopped and held my breath. And after a moment or two of wondering what I was supposed to do when meeting a bear (Do I try to look big and wave things around so it will leave? No, that is for cougars. Do I run like crazy and make sure I am faster than the person next to me? No, that is for brown bears and nobody is with me. Do I just take a picture with this camera that is hanging around my neck and actually in my hand? Yes. Yes, that is what you are supposed to do with a bear that is as afraid of you as you are of him.), I breathed again. I suppose you are supposed to know what to do in cougar and bear country. I know there are no brown bears or grizzly bears there, and I figured there were not any cougars so near to all the people around where we were staying, but even though I knew there were black bears around, and even though I was hoping to see one, I was not really prepared when it happened. Even though I was prepared. Sorta.
The long and the short of it is that I got my camera ready just as the bear was going out of view. You see, during that miniscule time when I was trying to figure out what to do when I saw that little bear, I thought about mama bears and judged whether that bear was big enough not to need his mama around anymore and decided that yes indeed it was big enough to not need his mama but that is was plenty big enough to do me serious damage if he wanted to do so, and so with all those other thoughts (in the parentheses above) I was not ready to take any pictures. Let alone one.
While I was thinking about what I was supposed to do when I saw a black bear, I watched as the bear decided what it was supposed to do. He turned around slowly and kept his eyes on me. Then, he walked back the way he had come. I had finally figured out that when seeing a black bear you are supposed to get your camera up and pointed to take a bunch of pictures so people would believe you. But by that time the bear was heading toward denser forest and the river. I actually had my camera ready for a shot as that little bear (probably heavier than me, and he will probably gain weight and height the more I tell the story) was going to go around a tree. I should have taken a shot before the tree, but I wanted to get his head and face. Alas, he never went past the tree. He turned and I did not see him again.
Naturally, I told the story to my family. They believed me even though I had no picture. Then, I told it to some people we met while basking in the hot springs the next morning. The lady said, "No picture, no bear. Simple." Of course, she was right. Not many people would believe I saw the bear without having a picture to prove it. (It was then that I thought to ask her if we should take a selfie with her and her husband. After all, they could be Danish royalty and nobody would believe us if we said we met royalty but did not have any pictures. "No picture. No royals. Simple.")
Even though I will have skeptics and people who tease me (I really need to get rid of that target that says pick on me), I really did see a bear. Really. Sure, I took many pictures along the path in Olympic National Park, but unfortunately, not one of the bear I met. Still, I did see a bear. And regardless of whether I have a picture or not, I will always have the story to tell.
© 2018 Michael T. Miyoshi