How do you make fun of a person for saying thanks? "Easily, thank you very much."
(If you are wondering where the next apologetics piece is, do not worry, it is coming. I just could not pass up the opportunity to say thanks on Thanksgiving. Besides, the opportunity to make fun of myself was too good to pass up.)
So where was I? Oh yes. "Thanks, I will." That is my response when people tell me to have a great or a good or even a mediocre day. Either that or "Thanks, you too." I guess it depends on who says have a wonderful day first.
"Have a nice day."
"Thanks, you too."
I never realized that I follow the script so well.
"Have a great day."
"You too. Have a marvelous day."
"Thanks, I will."
"Thanks, I will." Sincere words to be sure. Indeed, I am trying to work the magic of the power of positive thinking. I believe I will have a great day because I say I will have a great day. Words have power. That, and it is a decision to have a good day. But I suppose I can change things up a bit. I suppose I should change things up a bit. I am just not sure how.
I have come to the conclusion that I should change things up (in what I say) because my friend, foil, and arch-nemesis, Marc the Spark (Is that a cool super villain name or what!), has been mocking me. Not that that is anything new. I just thought that mocking somebody for something as innocuous as "Thanks, I will," was a bit much. Actually, I did not get it at first. It took me a time or two. And a wry smile. Then, I understood. He was mocking me. Well, not being one to take that kind of abuse, I decided then and there that he was right.
(Before I go much further, I must say that I have known Marc the Spark (Is that a cool super villain name or what!) seemingly forever. We have a great relationship and I do not get my feelings hurt when he mocks me. As strange as it may sound, I feel loved. I know. It is one of those strange male things, but it works for us.)
The way I finally understood that Marc was mocking me (maybe his supervillain name should be Marc the Mocker) was through the normal interaction.
"Have a great day."
"Thanks, I will."
The mocking was that he was the one who said, "Thanks, I will." Not me. Like I said, it took me three or four times (or maybe even five or six times) for me to get that he was mocking me. (I might have missed the wry smile the first seven or eight times.) But when I finally got that he was making fun of my lock step reply, I realized that maybe I do need to change my routine.
Well, changing your routine is not that easy. I have thought about it much since the ninth or tenth time we had the exchange. I have thought and thought and thought and I still cannot come up with a response. "Thanks," is not enough. "You too," does not fit when the person is replying to you.
"Have a great day."
"Thanks, you too."
"Thanks, you too."
Oh the agony of change.
(Speaking of change. I was happy when Marc used to reply, "Quit telling me what to do, Miyoshi." I was even happy when other people started giving that same reply. Which might have been the impetus for his new response. People were copying him. Marc is nothing if not original in his quick wittedness.)
Well, to make the long story even longer. I have not come up with a new response yet. But I am thankful for a Thanksgiving blog post that is light and amusing. At least to me. And no. I am not ranting at Marc the Mocker. If I wanted to rant at anything, it would be at the obviousness and redundancy of telling people that I could receive revenue from ads placed on my website. That would be something to rant about. (But that is quite another story.)
I suppose this blog post has gone on long enough. All I really wanted to do was thank my friend, foil, and arch-nemesis, Marc the Spark (Is that a cool super villain name or what!), for giving me a fun post for Thanksgiving. I am truly glad that he makes fun of me, gives me ideas for blog posts, and gives me food for thought. But for the foreseeable future, I am sure I will keep the dialog the same.
"Have a great day."
"Thanks, I will."
I hope that you all have a great Thanksgiving. I know I will.
© 2019 Michael T. Miyoshi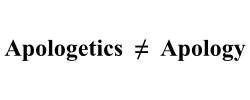 I am not much of an apologist, but I have written a few pieces. Actually, those few pieces started out as scripts for my YouTube channel, but I can either talk or write, but I cannot talk directly from a script. So I decided to put some apologetics on my website.
But what is an apologist?
Apologists are not people concerned with apologizing all the time. Especially, for their faith. Apologists are people who use reason to defend their faith. At least that is what Christian apologists do. The internet says that apologists are people who defend something controversial with some argument. It does not say that the argument must be logical or reasonable, but good arguments are. Then again, the internet does not say that the apologist must be good at offering the argument either. Which is where I started in the first place.
I am not sure that I am a great defender of the Christian faith, but I do know what I believe and why I believe it.
First of all, I believe that Jesus was born of the Virgin Mary, that His life is chronicled in the Gospels of the Bible, that He was crucified, died, and was buried, and most importantly, that He was raised from the dead on the third day. And He did it all so that we might have a way to have a relationship with God the Father through Jesus and His redeeming work. I also believe that although I can never achieve acceptance from God except through Jesus, I must do my best to follow Him every moment of my life.
Believe it or not, my writing is part of my following Jesus. It is part of how I am obedient to God. I know it might not seem like much, but writing is part of how I use the gifts that God has given me. I do not know if anybody derives any benefit from my writing, but I am doing what I believe God wants me to do. Which brings me back to apologetics.
I am not much of an apologist, but I do want to love God with my mind. And I want others to be able to get on that path as well. Yes, love God with all your heart. And love Him with all your soul. And love Him with all your strength. But love him with all your mind as well. There is so much more to God that we cannot even understand, but we can appreciate Him much more when we look at how He shows up in history, philosophy, science, mathematics, and literally every facet of intellectual pursuits. Anyway, I have found that I need to pursue God more with my mind so that I might be a better ambassador for Jesus. So that I can provide sound arguments for following Him to both Christians and those who think Christianity is all about blind faith.
Speaking of which, Blind Faith is musical group from 1969. It is not what Christianity is all about. Christianity is based on history. Indeed, Paul says that if Jesus was not raised from the dead that Christians would be the most pitied of all people. (1 Corinthians 15:19)
And so I have endeavored to do a little apologetic writing. Just a few pieces to let people know what I believe and why I believe it. With reason and sound arguments. Which is what apologetics is all about. I might not be much of one, but maybe one day I might be a mediocre apologist. That would be something.
© 2019 Michael T. Miyoshi
Distracted discourse can be dangerous to your relationships.
Being distracted can be dangerous to your health. When you are driving or working about heavy equipment, you must always be vigilant. You must always be aware of your surroundings or things could go seriously awry. Being distracted in those situations can truly be dangerous to your health.
We can see this danger most often with distracted drivers. Those are the people who come into your lane because they are looking down at their phones. Even though it is illegal and dangerous, people still drive distracted. And I am not sure why. But as dangerous as distracted driving is to your physical health, distracted discourse can be equally dangerous to how you relate to other people. Distracted discourse can be dangerous to your relationships.
We all think that we can multitask. Text and drive. Juggle and eat an apple. Read and watch TV. Be on the internet and talk to somebody. I know. Some people really can juggle and eat an apple, but doing those other combinations of tasks are surely impossible. At least if you want to survive, or do either one or the other well.
I know that I am not a multi-tasker. I can only do one thing at a time. Especially, when it comes to talking with other people. I need to make sure I do not have distracted discourse.
Communicating with other people takes immense concentration. You need to actually listen to the other person's words. But looking at the other person is just as important. After all, you can tell much of what a person is feeling by looking at him or her. Seeing a person speak is just as important as hearing tone and inflection. And of course, as important as listening to the words.
I know all these things about active communication. We probably all know these things. But I have too much distracted discourse. I am sometimes distracted by my iPad when I am talking to important people. When I am talking to my family. And that is something I do not want to do. I want to fully engage with my family when I talk to them. I want them to know that what they are saying is important. I want them to know that I am taking them seriously. And more importantly, I want to make sure I hear the words they are saying and the feelings they are communicating with their facial expressions and body positions. I want to really communicate instead of barely listening.
Of course, there are times when I really listen. When I put away my device and have actual conversations with people. When I do not have distracted discourse. And I am working toward that being the case all the time instead of some of the time or even most of the time. I am working to shut down my device when I am listening to somebody talk. I am working on having undistracted discourse.
We all know that bad things happen when there are misunderstandings between people. Relationships can be fractured. Sometimes beyond repair. Or at least seemingly so. Just because of communications. Which is why I am working toward always having undistracted communications with everybody. Sure, there will be times when I am interrupted and need to come away from whatever I am doing, but telling people to wait a moment until they can have your undivided attention is better than trying to finish something while they start talking.
Just like I know I should never even check a text message that comes when I am driving, I know that I should put away my distractions when I am communicating. After all, I know that distracted driving is dangerous to my health, and distracted discourse is just as dangerous to my relationships.
© 2019 Michael T. Miyoshi