I have gotten a lot of grief over the past couple years about my baby water bottle. But it is not a baby water bottle.
I have this small Nalgene water bottle that I have used for the past few years. The first few times I took it to work people kept commenting on how small it was. And I suppose it is compared to those 32- to 64-ounce gargantuan bottles people lug their water around in. I cannot imagine carrying around 2 to 4 pounds of water in a metal or even plastic container. It might hurt my back. It would certainly stress my bladder.
Maybe that is why I have such a small bottle. I have a small bladder. (Which is a completely different story.)
Actually, I use the small water bottle because that is what they had back in the day. I am sure we got it back in the 1990s. You can barely see the 14-ounce mark anymore. But it is there. Which is what I point out to people who say I have a baby water bottle. It says 14 ounces on the top mark and the bottle can fit another 2 ounces on top of that. So there. Neener neener neener.
It is funny though. I like the size of my water bottle. It does not make me lean to one side when I carry it on my walk from the water fountain back to my room at school. And it hardly weighs anything when it is empty. (It is actually not empty but full of air, but that is a really really different story.) And truth be told, now that I have been using it for a few years, I almost miss the comments about how small the bottle is.
Which is why I had to write about it. The comment that is. Nobody really said it was a baby bottle at work. They just thought it was small and cute. But somebody else recently called it a baby bottle. Actually a baby water bottle. Which struck me as funny. After all, if it was really a baby bottle, it would only be 4 or 8 ounces. Which really would be tiny. I must admit though that it has been a long time since we had any of those in the house. (Babies or baby bottles.) But I cannot imagine myself carrying around a baby bottle to lug water in. That really would be embarrassing.
It would be equally entertaining to see a kid using my water bottle. After all, it has a wide mouth. The bottle that is. So any baby (or probably more correctly, any toddler) would have more water on his body than in his mouth if he tried to use my water bottle. Which goes to show that my water bottle certainly is not a baby water bottle.
Getting enough water is an important part of being healthy. And I am glad that I have a normal sized water bottle to carry my water in. Even if everybody else seems to think that my 16-ouncer is a baby water bottle.
© 2019 Michael T. Miyoshi
30 MPG · 14 September 2019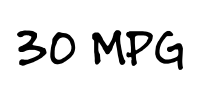 I was astounded when I realized I got 30 miles per gallon (MPG) on my old Camry. Not around 30. Above 30.
I know that I do not always do easy math very well (which is a completely different story), but I was amazed when I calculated that I had gotten just over 30 MPG over a weekend. Sure, I was driving almost all highway miles, but I had to deal with Seattle area traffic on two of the four long trips. And a little delay on a shorter trip. Just over 400 miles in four or five days. And it only took 13.3 gallons of regular gasoline. That is just over 30 miles per gallon.
After I did the calculation in my head three or four times (just to make sure I was not mistaken), I did some thinking. Not about the math. About our society and science and technology and a whole bunch of other thoughts. And I was disappointed. Again. I was disappointed that here we are about 40 years from when those little Hondas were getting well over 30 MPG and we are still excited about cars getting 30 MPG.
I remember being a teenager wondering when cars would get 50 MPG. Back then, I figured we would have those 50 MPG cars in no time at all. I thought that surely those 50 MPG cars would come about before the turn of the century. But no such luck. Which is why I was disappointed.
When I calculated my cars MPG, I was surely disappointed that we do not have those 50 MPG vehicles yet, but I was even more disappointed that we think 50 MPG is amazing. Amazing for hybrid cars. Think about it. If those little Hondas were getting over 30 MPG in the eighties, why are we so excited that hybrids only get 50 MPG nowadays? It baffles me. Or maybe I do not get science and technology. Or maybe I am just confused.
Well, not being a conspiracy theorist or at least not one who subscribes to any conspiracy theories, it still makes me wonder. It makes me wonder why we have not had any breakthroughs in gasoline technology. Are combustion engines the best they can be? I doubt it. I believe there is more there. And the reason I believe it is because of computers.
Computers and computer technology have been operating under Moore's Law since at least 1965 when Gordon Moore proposed it. That is to say that computer technology has continued to get smaller in size and bigger in computing power and lower in cost since then. And it continues to do so despite the predictions that it could only last a couple decades. Some people even project that it will continue into the next decade. So why have there been no breakthroughs like this in automotive technology, specifically combustion engines? Some people will answer, the Laws of Thermodynamics. Others will answer that there have certainly been breakthroughs, but conspiracies have kept them from us.
Certainly there are physical and chemical laws that cannot be broken. But there may be some truth to those cockamamie conspiracy theories. After all, we do not yet inject a specific number of molecules of gasoline into the combustion chambers. Even though it seems feasible to do so. Or at least theoretically possible to do so. That would certainly help efficiency and fuel economy. And who knows. Maybe conspiracy theorists are right and breakthroughs like this have already happened, but are being kept from us.
Who knows the truth? It certainly is out there somewhere. But we might not ever know it in this lifetime.
I know it seems strange, but all these thoughts came about because of a simple calculation (that I really did in my head) after filling up my car. That realization that my little Camry got over 30 miles per gallon.
© 2019 Michael T. Miyoshi
There is something special about starting the new school year. Even when I have had 24 new school years already (not including those I had as a student).
Fall is the beginning of a new school year. A time to get reacquainted with colleagues. A time to meet new students. And even after twenty-four new school years, I still find a freshness to it all.
Yes, I really do enjoy getting back to school and seeing my colleagues, most of whom I have not seen for a couple months. Many of whom I have had no contact with during that time. I enjoy the camaraderie that we share in our somewhat lonely profession. Lonely simply because we do our own thing with our own students most of the time. But we share the bond of being professionals together and of having the same mostly wonderful students.
Of course, I enjoy seeing the mostly wonderful students too. I especially love the first day when I see the bright shiny faces of students eager and excited for the new year. Some will be graduating in the spring and some are just starting their high school careers. I feel empathy too as I see the wide eyes and fearful faces of those who have no clue whether the stories they heard were true. Whether they might get one of those scary teachers who relish eating students in one bite. I try to calm their fears and let them know that there are few teachers in our school who can eat a student whole in one sitting let alone one bite. But seriously, I like to give them a little comfort and assure them that nobody is going to worry too much that they could not find the shop on the first day. And I let them know that everything will be okay. Just remember to breathe.
Even after twenty-four new school years, I am ready to start the twenty-fifth. I am ready to see the new crop of students come through and make short work of the requirements they need to meet. I am ready to help those along who need that extra push or encouragement. And I am ready to help them all understand that failure is not failure unless it is the last time you are going to try. And that little failures often lead to great successes in the future.
I am also ready to help them all understand that in the grand scheme of thing there is a grand scheme of things. That the little things they learn are part of the big picture. That learning to learn is as important as the learning itself. That software comes and goes, but processes stay much the same. That teachers come and go, but the love for learning and teaching hopefully remain. That this too shall pass. That time may not heal all wounds, but it does lessen the pain. And that not everything teachers teach can be found in a book or on the internet.
As an educator, there is always a scramble to get ready for the students to arrive. There is always more work to be done. But I am ready. I am excited. Even after twenty-four of them, there is still something special about starting a new school year.
© 2019 Michael T. Miyoshi