Lullaby
by François Nicholas Riss
This work is in
the public domain.
What do you do when you just can't sleep?
Do you try to settle down and not make a peep?
Do you toss and turn to try to settle in?
Or do you try to breathe softly out and in?
Do you open your eyes and lie in wonder?
Or do you shut them tight against the thunder?
Do you listen to the sound of the wind a howlin'?
Or do you get up and satisfy that stomach growlin'?
What do you do when you just can't sleep?
Do you close your eyes and think of Little Bo Peep?
Do you count and wonder if you lost your sheep?
Or do you lie and stew about not getting any sleep?
Do you close your eyes to create a dream?
One where you're eating peaches and cream?
Do you think of yourself as a superstar?
Or do you dream of driving in your own race car?
What do you do when you just can't sleep?
Do you go fishin' in the ocean deep?
Do you ride around the world in a supersonic jet?
Or do you think about somebody that you just met?
Do you open your eyes to look up at the moon?
Or do you sail above the earth in a hot air balloon?
Do you dream of going on a shopping spree?
Or do you say a prayer for your family?
What do you do when you just can't sleep?
Do you go diving in the ocean deep?
Do you see creatures no one ever saw before?
Or do you wonder why your back is always sore?
Do you think of the things that you might invent?
Or are you with life oh so content?
Do you dream of surfing on the perfect wave?
Or do you ask the Lord your soul to save?
What do I do when I just can't sleep?
I pray that the Lord my soul will keep.
© 2018 Michael T. Miyoshi

Agony of Defeat
Victor Bogataj
When I think of Track and Field (T&F), I cannot help but think of Jim McKay introducing ABC's Wide World of Sports. T&F is both "…the thrill of victory and the agony of defeat."
It used to be that I would see the ski jumper crashing when I thought of "the agony of defeat." After all, we heard Jim McKay's voice say those words to that scene each weekend when we were kids. Now, I see faces of my own kids and of athletes I have coached. Thankfully, I see those faces when I think of "the thrill of victory" too. Probably even more so.
One of the hardest things about coaching T&F is that not everybody gets to be a champion. Despite the hard work and effort put in to get there. Despite the desire. Even despite the physical prowess. After all, unless you are the world record holder, somebody is always better than you. And even then, records get broken. So everybody knows the agony of defeat. The heartache of only going so far. Yes, this heartache and agony are in all sports, but the pain comes home to me when I see those faces of athletes I have coached. Those athletes in the agony of defeat.
I know I cannot take all of their heartache away, but I do work to soften the blow. Often times, it is just with a word or two. With a hug and a look. Or with space. Athletes are all different. They all need different things to help them through the agony. But time does heal all wounds. Even if the agony leaves a little bit of a scar. Even if it feels like there will never be any more thrill of victory.
The great thing about sports in general and T&F in particular is that there are always thrills of victory. Big and small. There is always something positive athletes can take away from a meet. Those small victories are what I like to point out. Sometimes it is that an athlete got to compete in a big meet. Sometimes I point to a Personal Record (PR) that the athlete had. Sometimes I help the athlete look to the future or even the past. Especially, if there is still a bit of agony.
One of the greatest things about T&F is that I get to see smiles from those athletes who understand there are always victories. There are the athletes who know they performed better than they ever have. Those who had PRs at meets. There are also those who smile even when it was not their day. Just because there is so much to be thankful for. And there are those athletes who are champions. Even if it is just for that day. Both the little and big victories are to be savored. They are indeed thrilling.
I like the victories. But there are important lessons to be learned from defeat. Lessons about sport. And bigger lessons about life. Lessons like taking the agony of defeat and turning it into the thrill of victory. That is one of the most difficult things there is in coaching. It is also the most rewarding. Indeed, it pains me to see my kids and my athletes in the agony of defeat. Like I said, I see their faces when I hear Jim McKay's voice in my head talking about that agony. But I also see those same faces smiling when I think of the thrill of victory.
© 2018 Michael T. Miyoshi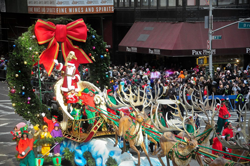 Santa Claus Arrives by Tweber1
licensed under CC BY-SA 2.0
I love a parade. They are so much fun. At least when there are marching bands. I am not so much into floats and dignitaries and such, but I love the marching bands. Still, there is something about parades that I enjoy even when there are not that many bands. And even when those parades do not include any of my children. I like those big balloon characters in the big parades.
I do not know of any big parades coming up. I was just thinking of parades because of a #SixWordStory prompt on Twitter. The prompt was: favorite parade character. Well, with only six words, I either go to pop culture and stereotypes or I cheat (usually with just one extra word). You need to do one or the other with six word stories. Or at least I do. And I usually do the first method. For how can you tell a story in six words without some common background? You cannot. Unless, of course, you are telling it to specific people who have something specific in common. Those inside-joke people. Which means a story to the world in six words or less (or more if you are a cheater) means that you need to use pop culture references or stereotypes.
Unless I am doing something wrong. Which is entirely possible.
(I know I have written about six word stories before. They are quite fun. And I have enjoyed writing them many days of the week. After all, they are good kickstarters for my writing. Even when I do not completely follow the rules and use more words than I am supposed to. But back to the story.)
In the case of favorite parade characters, I chose two characters. But I could not just say who those characters were. I had to tell a story. Unfortunately, pop culture was not kind in providing six word answers to my problem. After all, "Not bird nor plane nor even frog…" would be the perfect six word story, except that it is seven words. I did not cheat this time. I even shortened the phrase to five words. People who ever watched any seventies TV would know the whole lead in to the show. "Not bird nor plane nor even frog, it's just little ole me… Underdog." Which is way longer than six words. But like I said, I think I nailed it with just five words. "Not bird, plane, nor frog…"
My story for a second character was a movie reference. "He's just a nice man dressed up in a red suit." Which is also more than six words. So I shortened it to "… a nice man in a red suit." Which is seven words. (Also more than six.) Like I said, sometimes I cheat on those six word story prompts. At any rate, I love seeing Natalie Wood in Miracle on 34th Street. She is so convinced that the nice man in the red suit is not Santa Claus, even though he really is. So anybody who read my answer to the prompt and also saw the movie would know that my six word (seven word) story was about Santa Claus. Which is the point. You are supposed to know the whole story after just reading the six (or seven) words. Thus the hashtag #SixWordStory.
I am glad that there are folks out there giving #SixWordStory prompts. They remind me that writing needs to speak to the audience. And in the case of the favorite parade character, it reminded me of childhood and parades. I love parades. And even if there are no bands, I still like Santa Claus and little ole Underdog.
© 2018 Michael T. Miyoshi