A poem to my mom. A real super woman.
You said you were a super woman
But we knew that all along
So I had to write about it
In a poem or a song


You wiped our noses and dried our eyes
When we cried about anything
You helped us to find our voices
You helped us to find our wings


You taught us about life
You taught us about God
You showed us the love of Jesus
The one and only Son of God


You showed us how to be parents
You showed us how to let things go
You showed us that the best in life
Are the people that we know


To this day we all know that
You are our biggest fan
You yell and scream and cheer so loud
As only Mom and Grandma can


You might not have leaped tall buildings
Stopped locomotives or crushed cars
But you showed us all that you love us
By holding us tightly in your arms


Yes, you showed us you are a super woman
By your supernatural love
But we are not yet ready
To feel your love only from above

© 2020 Michael T. Miyoshi
I do not like the end of the school year. Especially this year.
The end of the school year is never any fun for me. Sure, the kids all chant, "No more pencils, no more books, no more teachers' dirty looks." And Alice Cooper's song, School's Out, plays on loudspeakers everywhere. But I find the end of the school year to be bittersweet. Often more bitter than sweet. Especially, this year.
To be sure, the 2019-2020 school year has been unique. Our local student body has had bad news and tragedy for over a year. And closing the doors for COVID-19 was certainly unexpected. Certainly disruptive to the learning process. But students are resilient. They are resourceful. They will survive. They will be better for the experiences. Even though they are pained going through them.
Even though our students and staff have gone through these tough times together, those same tough times are not why the end of the school year is bitter. Nor is knowing that we will all come through the other side of this a little wiser and stronger the reason that the end is sweet.
For me, the end of the school year is sweet because we can chalk up another successful year in the books. We can say that we did what we could to help the students become better citizens and more thoughtful learners. And if just a handful of students say that they have learned anything, we can say we were successful because we know many more did as well. I would say that even during this strange year, we had some of that sweet success. Maybe not quite as sweet as it has usually been, but students still learned and grew as learners and people and citizens. And we, their educators, can be proud of what we have accomplished alongside them this year.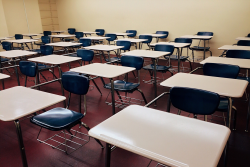 The end of the school year also brings the bitter part of bittersweet to the front of my mind. I do not like saying goodbye. Especially to my seniors who I may or may not see again. And this year, I did not get to say goodbye with the traditional handshake and/or hug. Nor will I get to say my in-person goodbye to my other students, some who will be in my class next year and some who will not. Yes, I will still tell them to stop by and say hello when they walk by my classroom. Even though we do not know if any of us will be walking those hallways any time soon.
Which is, of course, one of the biggest reasons I am not liking the end of this school year.
Like I already said, I do not like saying goodbye. To my students. To my colleagues. But saying goodbye this year is worse than normal because we do not know when we will see each other in person again. We do not know what school will look like in the fall. We do not know when we can be in the same place together. We do not know when we can exchange handshakes and hugs. And that not knowing makes the end of this school year especially painful.
I called this piece End of School for a reason. No. I do not believe it is truly the end of school as we know it, but things will surely change. Things will be different in the fall. School will not be quite the same as it was before. But I will be. I will still love my students and my colleagues. I will still respect and value them all. And I will still do everything I can to help them along their journeys in life.
The end of the school year is always bittersweet. I applaud all that my students and colleagues have accomplished this year. And I am sad that I did not get to say many personal goodbyes.
Now you know why I do not like the end of school. Especially this year.
© 2020 Michael T. Miyoshi

Praying Hands
by Albrecht Dürer
This work is in
the public domain.
A Poem for the Graduates of 2020
Amidst all the chaos and strife of this year
You might have felt trepidation or even some fear


COVID

-19, deaths of classmates and friends
Made you wonder inside if bad news ever ends
Then murder and protests and riots and more
Made you believe only bad news is ever in store


But I must reassure you, it is good news I bring
Not just sunshine and roses because it is spring
Yes bad things do happen and bad news abounds
And all life can be just as bad as it sounds
But hold hope in your heart and let love abound
Let love flow inside you, then spread it around


Now, I know you can do this for you've done it before
You spread infectious love when you walked through the door
Your enthusiasm and spunk were all too contagious
Even when you wore clothes that were simply outrageous
But these things that you did were not just outward for you
Acts of kindness and caring were not just the things that you do


You held love inside and you cared for each other
Each person a friend, a dear sister or brother
Yes you are the reason I have hope deep inside me
Because you are the change that the world needs to see
For when you leave this place, you'll take the whole world by storm
And you will decide what will be the new norm


I once heard it said that things will never get done
Unless you decide that you are the one
So take the bull by the horns, yes, you decide
And walk arm in arm with your friends by your side
And let the good that you do help to set people free
For the love that you give will change the world, watch and see

© 2020 Michael T. Miyoshi