(Click the picture to watch my Inktober 2020 video.)
I know October has long since passed, but I realized that I did not write about one of my latest creative endeavors – Inktober.
For those who have never heard of it, Inktober is just a month of making art with ink. If you did not guess, the month in question is October. Ink plus October equals Inktober. Naturally. As far as catchy names trying to get people to be creative, I like Inktober much better than I like NaNoWriMo. (By the way. If you have never heard of National Novel Writing Month, that is November. And quite a different story.) Inktober is catchy, has most of October in its name especially when you think of sounds (as opposed to NaNoWriMo, even though it does have all those Ns to help people remember it is in November), and is easy to participate in. All you need is ink and paper.
(By the way, I am not putting NaNoWriMo down. I have only ever participated in it once long ago, but I still like the concept. After all, NaNoWriMo is an attempt to get people to write lots every day. It is supposed to be a kick start for people who say they want to write, but are not in the habit of writing. So while I wholeheartedly endorse its purpose, I find it difficult to write a novel that quickly. Still, if you have ever said you want to write a book, participating in NaNoWriMo is a great way to get started, whether you finish during the month of November or not.)
At any rate.
As with any creative endeavor or any routine of any sort that you want to create, the first thing to do is to start. Just start. Inktober is a way to get started. Thirty-one ink drawings in thirty-one days. (By the way, I am sure that somebody out there might be thinking that Inktober should be to get thirty-one tattoos in thirty-one days, but I am not that person.) There was no pressure or rule to post online, but if you did post, you were encouraged to use the hashtag #Inktober. Which is what I did. I made my drawing, took a picture, then posted to Instagram with the hashtag. It was fun, even though my drawings were not anything that would be hung in a museum or anything like that. Which is part of the point. It does not really matter whether the drawings are good or not. The point of Inktober is to just get people to draw. At least that is the way I saw it.


(Click the picture to watch my Inktober 2020 video.)
It was quite fun to make drawings each day based on a prompt given by the Inktober website. I used a pencil to get things started and then inked the drawings to finish the product. At first, I did not erase any of my pencil marks, then toward the end, I did. I am not sure if I got any better at drawing, but I realized that making ink drawings was fun. And using a pencil first was not cheating. It was just part of the natural process of drawing.
I did not get into the habit of drawing every day as a result of Inktober, but I am drawing more than I have done for quite some time. And I also got to have a little fun with my other hobbies. I made a YouTube video of my Inktober drawings, which included a piece of Garageband music that I created.
Well to make a short story a little longer, I have decided that I like art. I like music. I like so many creative endeavors. And of course, I like to write about them.
If you have notions that you would like to draw or paint or do anything creative, just start. Nobody ever has to see what you create. Nobody cares if you are good at it or not. Especially in the beginning. Just be creative. You do not need Inktober or NaNoWriMo or any other gimmick, but if they help you to get started, great.
I know you do not need my permission to be creative (but if you want it, you have it). Nor do you need to wait for Inktober to start drawing. But if you want to have a little fun making thirty-one ink drawings in thirty-one days, participate in Inktober. It is lots of fun. (Remember, you do not need to wait until Inktober to start drawing.)
© 2021 Michael T. Miyoshi
Even though I do not have them very often, I am going to miss having smelly food for lunch.
I am heading back to the school building after being away for almost a year. It will be good for my psyche. It will be good for my social (even though we are still social distancing). It will be good for my soul. It will be good just to be back at work even if the kids are not there. Yes, I have been working this whole time, but it is different teaching and working from home.
To be sure, it has been a huge blessing to be able to work from home. As I mentioned in the fall, I would not have been able to open the school year because of my shingles had we not had the pandemic. The pain was too great and I needed to be home so I could take pain medication, which precluded driving. And after the pain had subsided enough for me to start driving again, I had gotten into a routine that worked. I did not need to go to the building, so I kept telecommuting.
One of the nice things about telecommuting is that you do not need to worry about eating stinky food at lunch. Nobody else can smell it or make fun of it or scrunch their noses at it. Nobody can say, "Who nuked the fish?" or "Who brought the kimchi?" Or whatever other food people think is a bit smelly for the lunch room. Which means that every so often, I have eaten fish and kimchi for lunch while I have been at home.
I am not sure I would eat kimchi at school anyway. Not that I am too worried about people scrunching their noses at what I eat. Yes, I do follow the lunch room etiquette of not eating smelly food. But I would not eat kimchi at work because I usually like it with hot rice (which is not a problem), but I never really know how much I want to eat. Which means that I would need to leave my jar of kimchi in the staff refrigerator.
While I doubt anybody would take any of my kimchi if I did leave it in the refrigerator, I would be afraid of somebody mistaking it for trash. To be sure, most food can and does stay in the refrigerator unmolested until it comes to life and walks away on its own two legs. Or until a long break is coming and somebody decides to clean. But I would be afraid that somebody might mistake my kimchi as rotten food and actually throw it away before its time.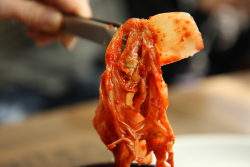 I admit. Kimchi is certainly a smelly food. And some people mistake its aroma for the stench of rotting food. Probably because it is fermented cabbage. Which means that technically it is rotting food, and so the smell of something rotting is appropriate. But fermentation brings its own health benefits. Fermentation (at least of cabbage) brings with it probiotics.
I must say that I do not eat kimchi because of probiotics. Nor do I eat it because I ate it as a child. When I was young, I turned my nose up at it. I thought it was smelly and gross. But I tried it one time, and have liked it ever since. Not that it is a staple in our house, but we do get it from time to time.
Which brings me back to where I started. I am going to miss eating kimchi and other smelly foods for lunch. It is not that I would not willingly share my food and its smells with others. It is that I respect their noses. And of course, it is because I do not want others sharing what most of us would call smelly foods. After all, nobody I know wants people sharing the aroma of Limburger cheese or Lutefisk. So I will not share my odoriferous foods at lunch either. Even if I will miss them.
© 2021 Michael T. Miyoshi


(Click the picture to watch a flower video.)
I think we all have a bit of DNA that says we need to be creative. Really. I think that we all desire to make stuff.
The desire to procreate is written in our DNA. In other words, we have a desire to have children because it is written in our DNA. It is coded in our genes. That makes sense. But even if I am the only one, I believe that there is coding in there for other types of creativity too.
I think about writers and painters and sculptors and musicians and actors. They are driven to create in their given media. I think about engineers and architects. They create cars and electronics and buildings and cities. I think about wives and husbands who stay at home to care for their families. They create a nurturing environment for their families. In fact, there is no adult in any profession that I can think of who does not create something. Often something amazing. Even demolition experts create open space. Even if the rubble must be cleared before it is truly open.
But I also think of kids. I think of little kids drawing amazing things that they might need to explain to an onlooker. I think of bigger kids building Lego creations either from a kit or from scratch. I even think of the kids of whatever age building worlds in games like Minecraft or software like Blender. I also think of the people who create all sorts of different software to create all sorts of different things. (Even if those people are not usually kids.)
As I think of all those different people doing all those different creative things, I think of our DNA driving us to create. And I think that DNA is marvelous. Simply marvelous.
People might argue that those who are truly creative are those who have the time and energy to do so. Those who are eking out a living are not creative. Those who are homeless are not creative. Those who are so exhausted when they get home from their jobs are not creative. But we have seen example after example to the contrary. We have seen writers who have come from obscurity because even though they were just trying to survive had that idea to write a book. We see homeless people who create art or perform music. We see exhausted parents draw and paint and cook with or without their kids. We see people from all walks of life being creative in some way, shape, or form.
Of course, my thoughts are not evidence that creativity is in our DNA. My thoughts are not designed to be persuasive. They are just my thoughts. My opinions. If I was trying to be persuasive or trying to present evidence that people are creative because it is written in their genetic code, you would just need to find a single contrary example to prove me wrong. You would just need to show me somebody who is not creative at all. But while people might say they are not creative or might not think they are creative, I would bet that everybody is. Because I am convinced it is in our DNA. You just might need to look harder at some people than others to find their creativity.
I am sure there are those who would say creativity is not in our genetic code, but I am sure it is there. You might not believe it, but you are creative. So go out there and create something beautiful. You know you want to. Even if you do not believe your DNA is driving you to do so.
© 2021 Michael T. Miyoshi